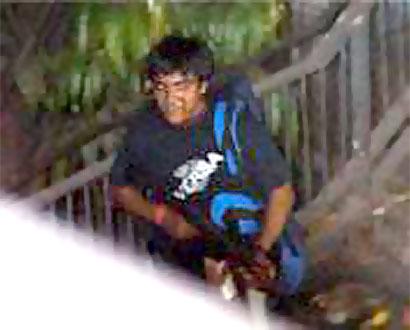 Still sleeping you stupid bigot SOBs?
Even after this 37th major terrorist attack in past 4 years
? If this wouldn't wake up this ignorant communal Government and Anti-Hindu biased media of Bharat than only God knows what will. This shameless Congress Government out of its complete apathy towards the security of the Citizens is responsible for this. All of the intelligence and Anti-Terrorist agencies were politically pressurized to prove non-existence mythical so-called Hindu terrorism to malign Hindus for past two-three months. So many Bharatiya citizens including a Woman and an Army personal have been brutally tortured and harassed due to this Government's Anti-Hindu vendetta politics and policies. Had these security agencies not being used as Pawns to haunt Hindus but rather left alone uninterrupted to do their jobs of finding the real terrorists and gather intelligence, this terrorist attack could very well have been prevented. This useless dictatorial Government should be thrown out and there should be a case of Criminal Negligence brought against the Home Minister Shivraj Patil and Prakash Jaiswal. This is what you get when you force Citizen's to
pay terrorists for being a terrorist
.
In one of the most violent coordinated terrorist attack, over 100 people have been killed and over 300 injured by the Jihadi terrorists. 78 people were killed along with ATS chief Hemant Karkare and two senior police officers and 274 injured when terrorists struck with impunity in Mumbai on Wednesday night in coordinated multiple blasts and gunfire in 11 areas including at iconic landmarks CST railway station and two five star hotels--Oberoi and Taj.
In one of the most violent terror attacks on Indian soil, Mumbai came under an unprecedented night attack as terrorists used heavy Terror attacks in Mumbai machine guns, including AK-47s, and grenades to strike at the city's most high-profile targets -- the hyper-busy Chatrapati Shivaji (formerly VT) rail terminus; the landmark Taj Hotel at the Gateway and the luxury Oberoi Trident at Nariman Point; the domestic airport at Santa Cruz; the Cama and GT hospitals near CST; the Metro Adlabs multiplex and Mazgaon Dockyard -- killing at least 80 and sending more than 300 to hospital.
मुंबई में निम्न दस जगहों पर हमले हुए हैं-
लियोपॉल्ड रेस्ट्रॉन्ट, कोलाबा
ताज होटल
ओबरॉय होटस
छत्रपति शिवाजी टर्मिनल
डॉमेस्टिक एअरपोर्ट, सांताक्रूज
मेट्रो ऐडलैब्स
मंझगांव
जी टी अस्तपताल
कामा अस्तपताल
बीएमसी के बाहर
More images here
and
here
.
Mumbai Attacks: "These Weren't Just Terrorists"
'VoIP bill paid from Pak'
. By DNA
A US-based witness who owns a Voice over Internet Protocol (VoIP) domain, Callphonex, which was used by 26/11 attackers to contact their Pakistani handlers, has testified that the money transfer for the account was made from Pakistan.

The witness also said the service was used mostly between November 24 and November 28 last year while the attack was on.

The witness, who is a Green Card holder of the US, told the court through video-conferencing facility that a man who called himself Kharak Singh emailed him and requested service on October 20, 2008.

"He [Singh] claimed he was from India and a VoIP reseller," said the witness. This witness, who was on a business trip to Canada, was deposing from a hotel in Toronto. The e-mail account used was -- kharak_telco@yahoo.com.

The witness, who was born in Palestine, said the initial amount of $250 was paid on October 27, 2008 through MoneyGram. "It was sent from Pakistan. It was sent from one Mohammed Ishfaq," he said after checking the records.

The prosecution claim that Kharak Singh is a false identity created for availing the VoIP services.

The second payment of $229 was made through Western Union transfer on October 25, 2008 from a sender called Javed Iqbal who gave a Pakistani passport number for identification, revealed the witness.

The account was disconnected in December 25 last year "because of lack of activity and lack of fulfillment of agreement", said the witness. "Singh" owed him over $1,500 as per the agreement.

The witness also said that he started having doubts about Singh's identity after the FBI contacted him around November 26-27 last year.

The accused in the case, Mohammed Ajmal Kasab, was seen bending in the dock to have a better look at the VCF screen. "I want to see the photo," Kasab said.
Sources:
हिन्दी:



English: